Harmon Family Chiropractic / 2602 Newton St. • Jasper, IN 47546 / 812-634-6363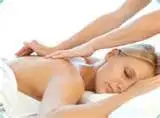 Benefits of Massage Therapy
Therapeutic massage and Deep Muscle therapy available in our office!!

We all know that massage "feels good", but the benefits of massage are much more vast. There are many therapeutic effects of massage that are supported by scientific research! Some of these benefits are: general relaxation of the body, improved circulation and blood flow, relaxation of muscles, alleviation of some types of muscular pain, decreased anxiety, relief of the negative effects of stress, and improvement in the nutrition to your cells.
Many of today's major health concerns and problems ultimately can be related to stress. This stress comes in many forms. Mental and emotional stress can lead to headaches, low back pain and ulcers etc…. Normal daily activities or repetitive motions can put stress and strain on the joints and tissues of the body. With these types of tension, muscles can shorten which can cause a loss of flexibility in the joints and muscles as well. When muscles are relaxed and restored to their optimal length and tension, correct posture and alignment can be maintained more easily.
How does massage work into the picture with your chiropractic care and treatments? Massage therapy is an effective complement and works synergistically with your chiropractic care. When utilized together, chiropractic and massage facilitate and stimulate the body's natural healing process by keeping the body in proper alignment, which ensures a free flow of nerve impulses and circulation in the blood and lymphatic systems.
Many of the problems that cause pain in the musculo-skeletal system are caused from a combination of stress on muscles, joints and nerves. Therefore, it is important to correct the misalignments called subluxations by being adjusted. In addition to relieving the stress on the nervous system, it is important to treat the soft tissues such as the muscles and tendons. In doing so this will help to lessen the accompanying pain from the subluxations and will help to maintain and prevent subluxation. By working together, chiropractic and massage will provide you with a more complete and effective health care system.
Make the choice to complement your chiropractic care with therapeutic massage today!! You will not only reduce the stress from the everyday grind, but you will assist the body in reduction of pain and its ability to heal itself.
Schedule your 30 minute or 1 hour massage session
with our massage therapist today !
or
Buy a Gift Certificate for someone else to Enjoy and benefit!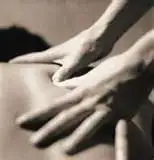 ---
INTRODUCING OUR MASSAGE THERAPISTS…
As a compliment to your chiropractic care, you may want to consider massage therapy services
Stephanie Kellems, LMT
As your massage therapist at Harmon Family Chiropractic: Stephanie is a graduate of Southern Indiana School of Therapeutic Touch and has been a licensed massage therapist in the state of Indiana since 2007. Stephanie completed a 2 year program focusing on various massage techniques, anatomy and physiology, along with kinesiology. Stephanie had previously worked at the French Lick Resort-West Baden Spa for 11 years. During her time at the resort, Stephanie was able to work with a various professional golfers during the PGA tours.

She is experienced in Swedish, Sports, Prenatal, Deep Tissue massage and Foot Reflexology. Stephanie has a relaxing yet therapeutic touch and specializes in deep tissue, trigger point work to help release your tension.
Services, Pricing and Appointments
Offering 30, 60, 90, and 120 minutes massage sessions
Available for sessions here on :

Monday, Wednesday, Friday from: 8:00am-1:00pm, 2:00pm-5:00pm
Thursday from: 11:30am-5:00pm
Sessions will be $45 for a 30 minute session, $75 for a 60 minutes, $105 for a 90 minutes or $135 for 120 minutes massage session.
**You may schedule your appointments with our assistants at the front desk or by calling 812-634-6363.
Gift Certificates Available!
___________________________________________________________________________________________________________________________________________________________________________